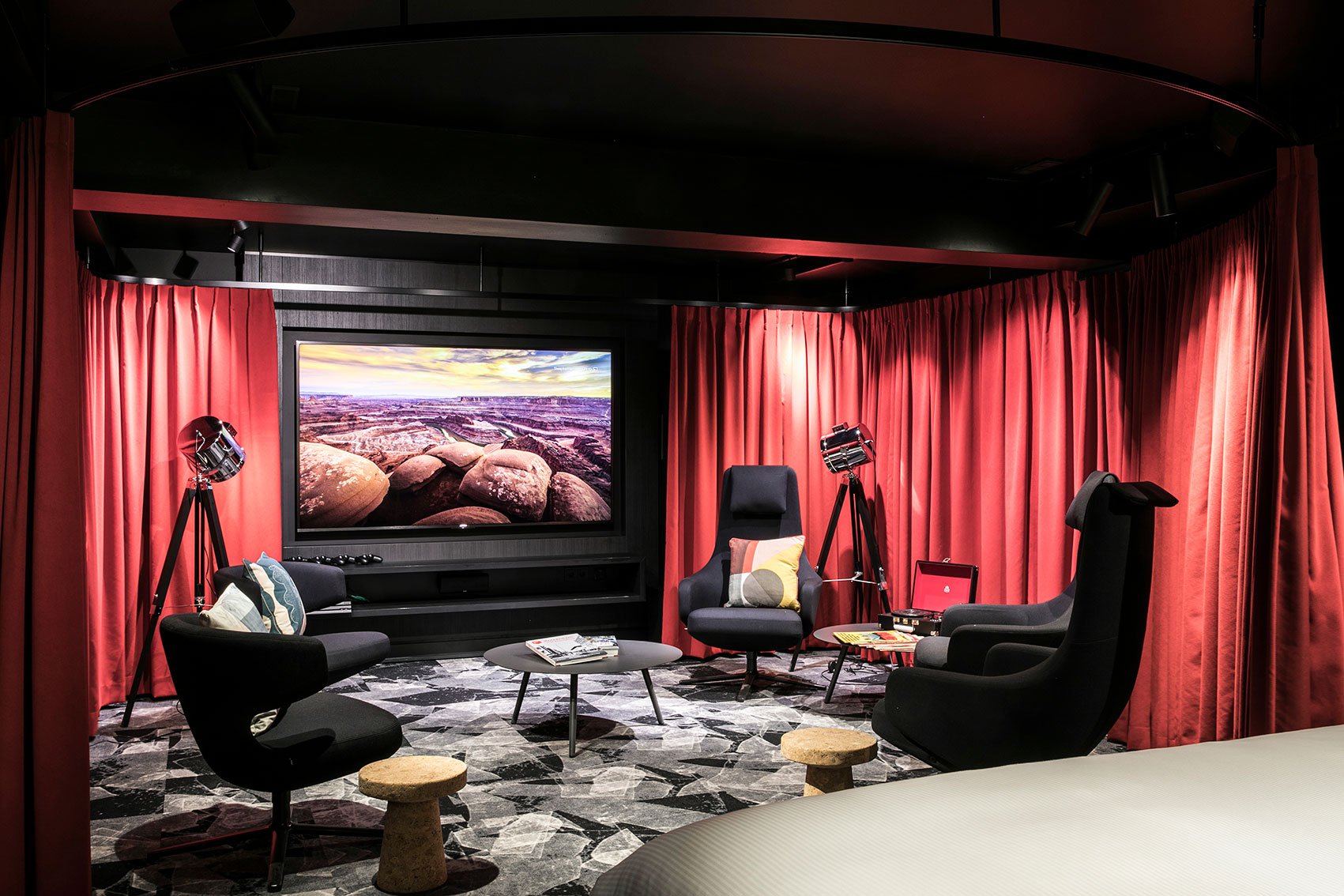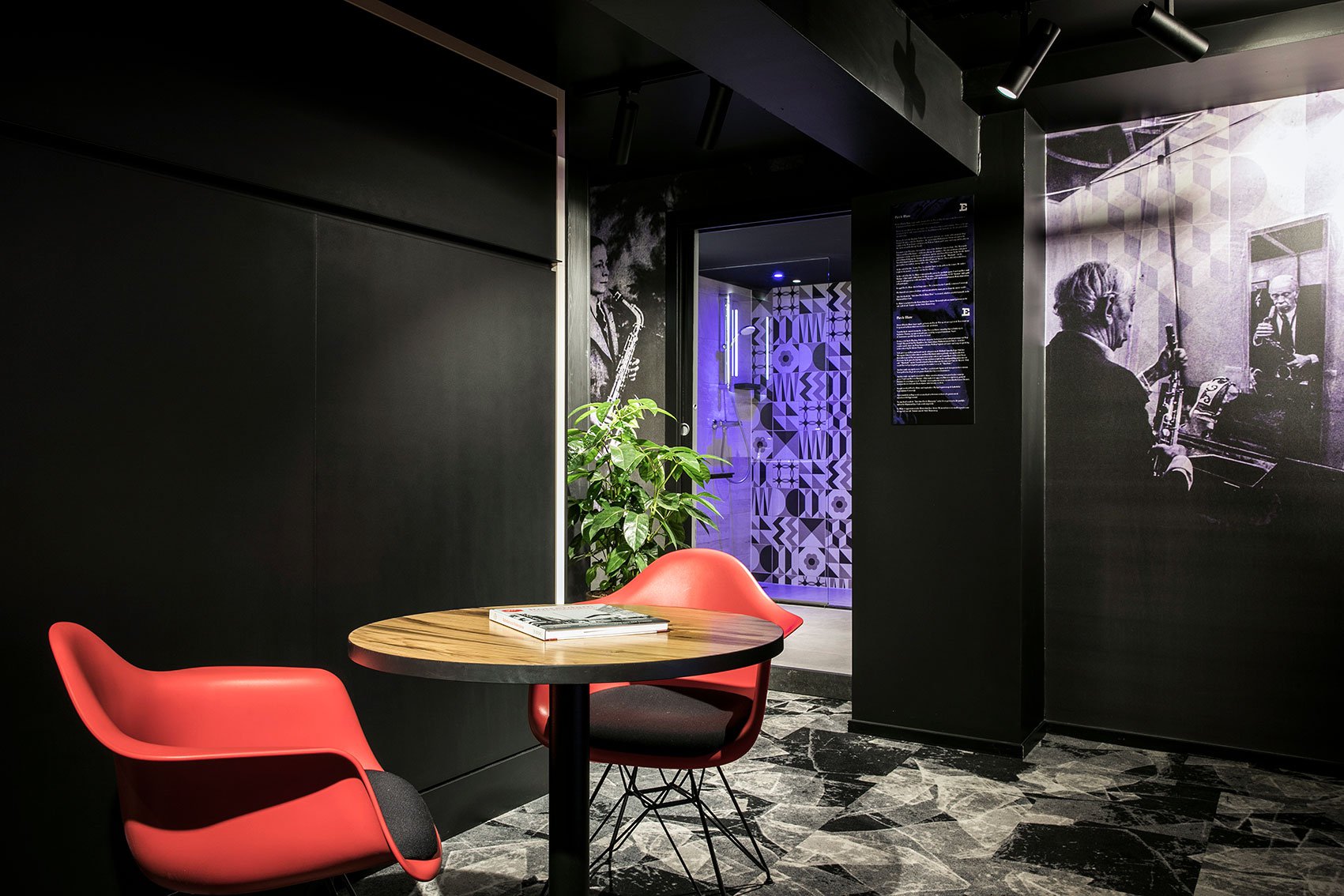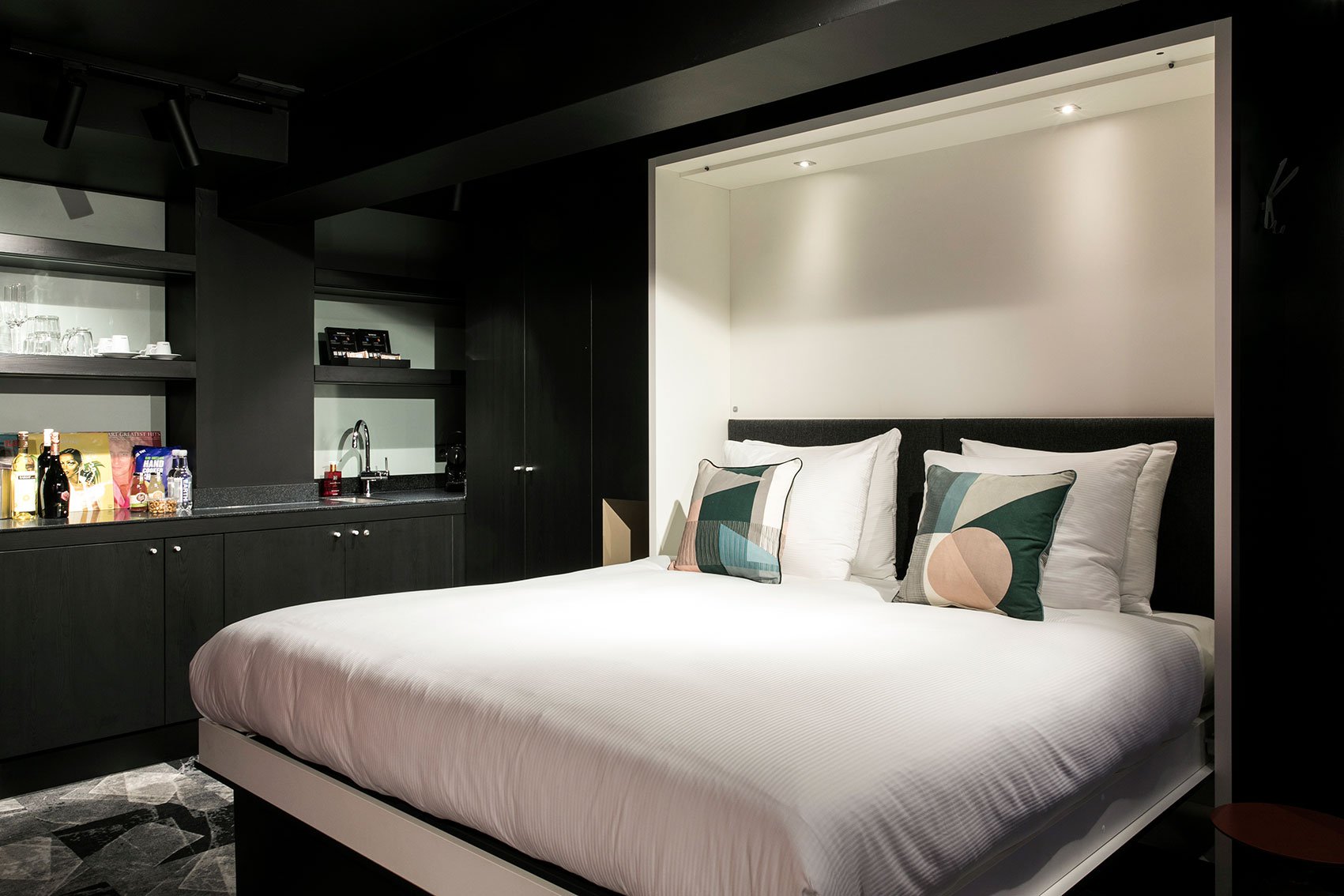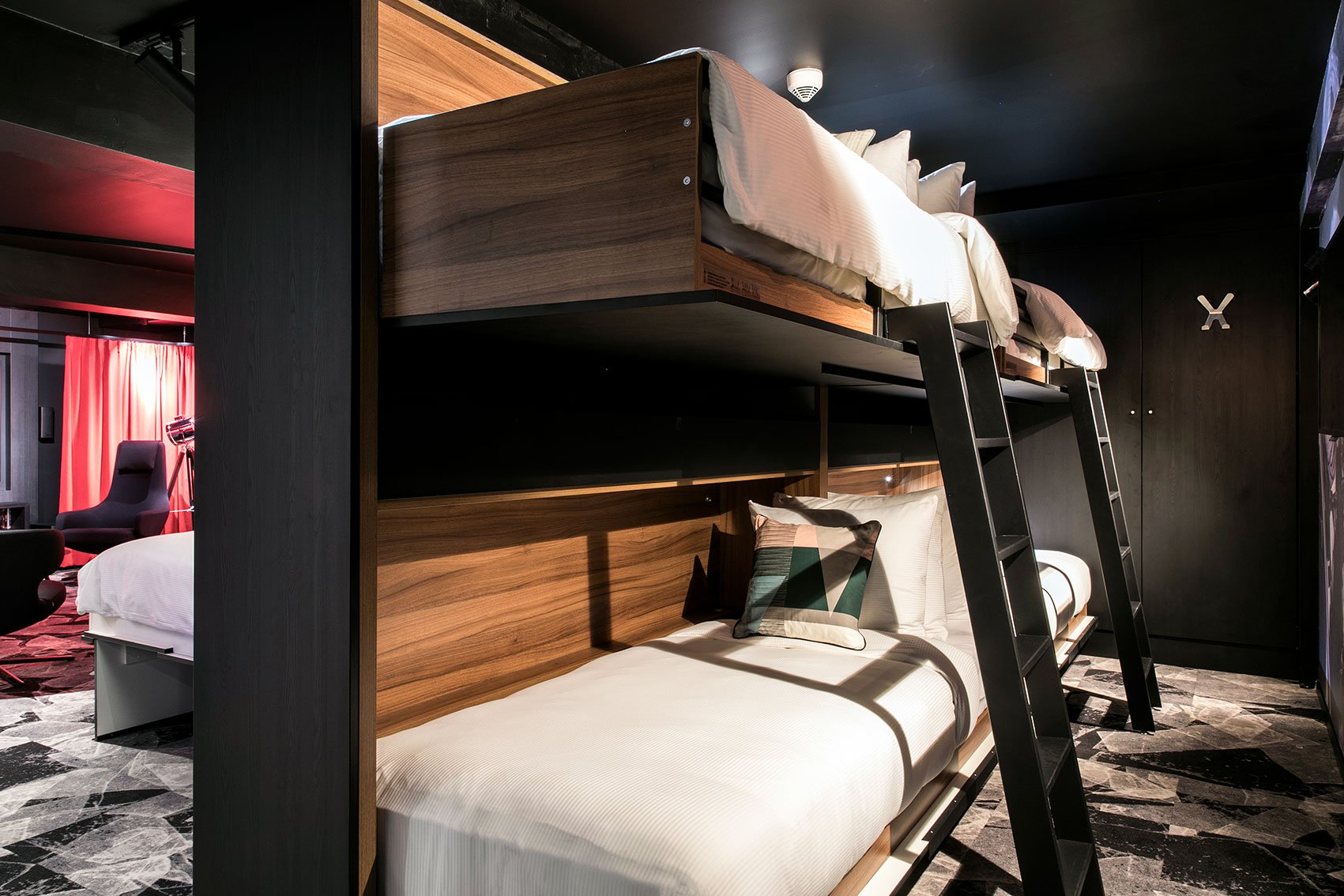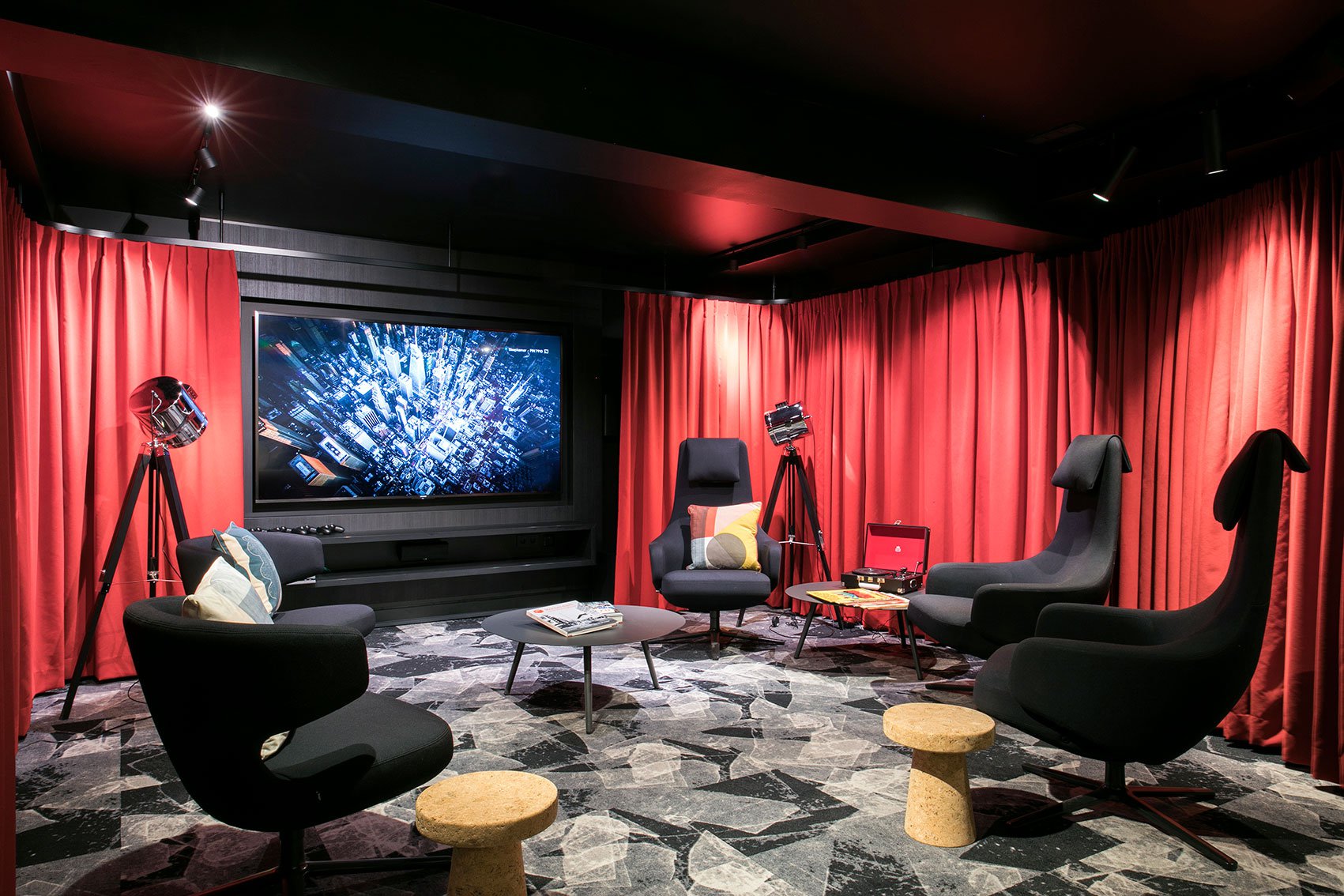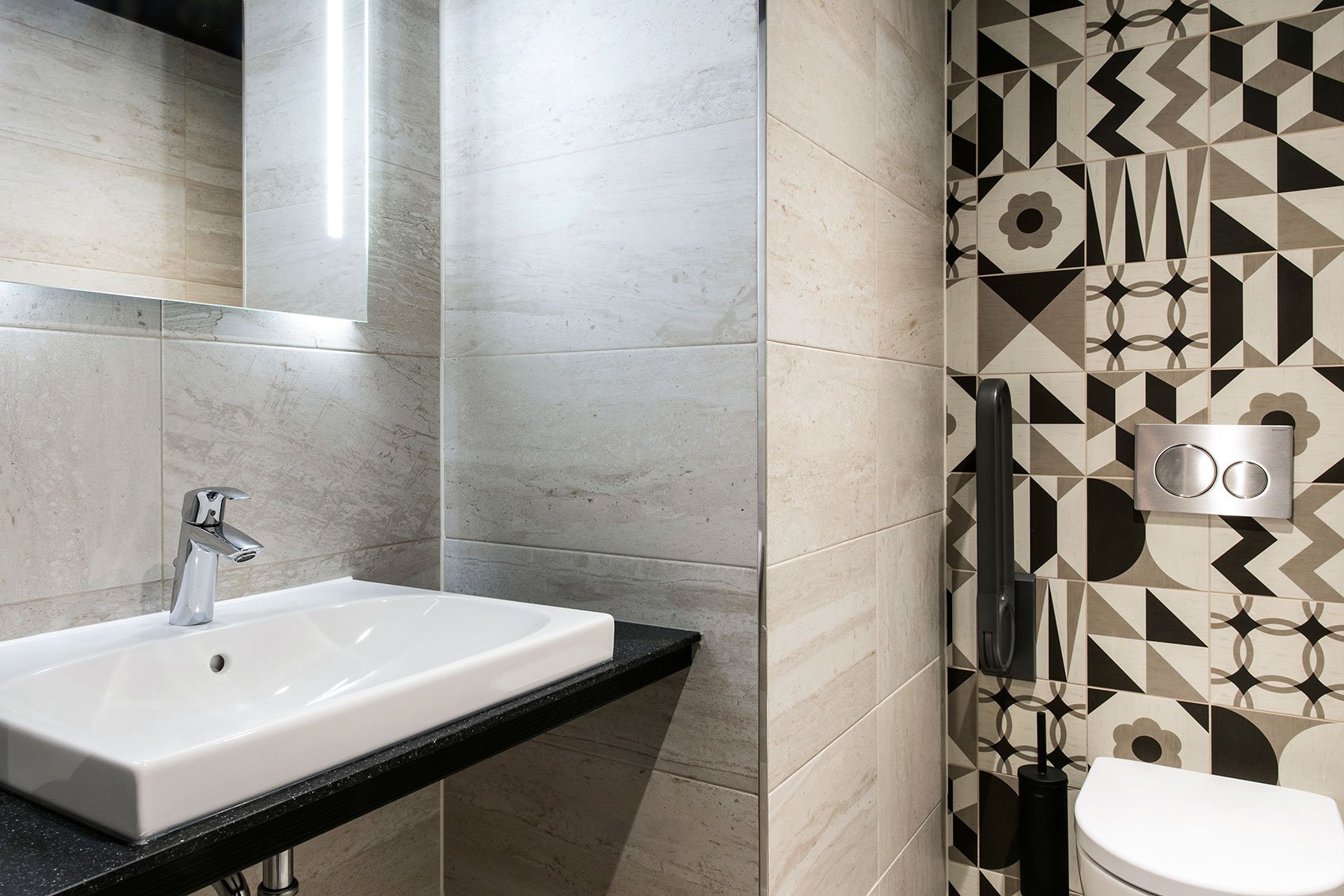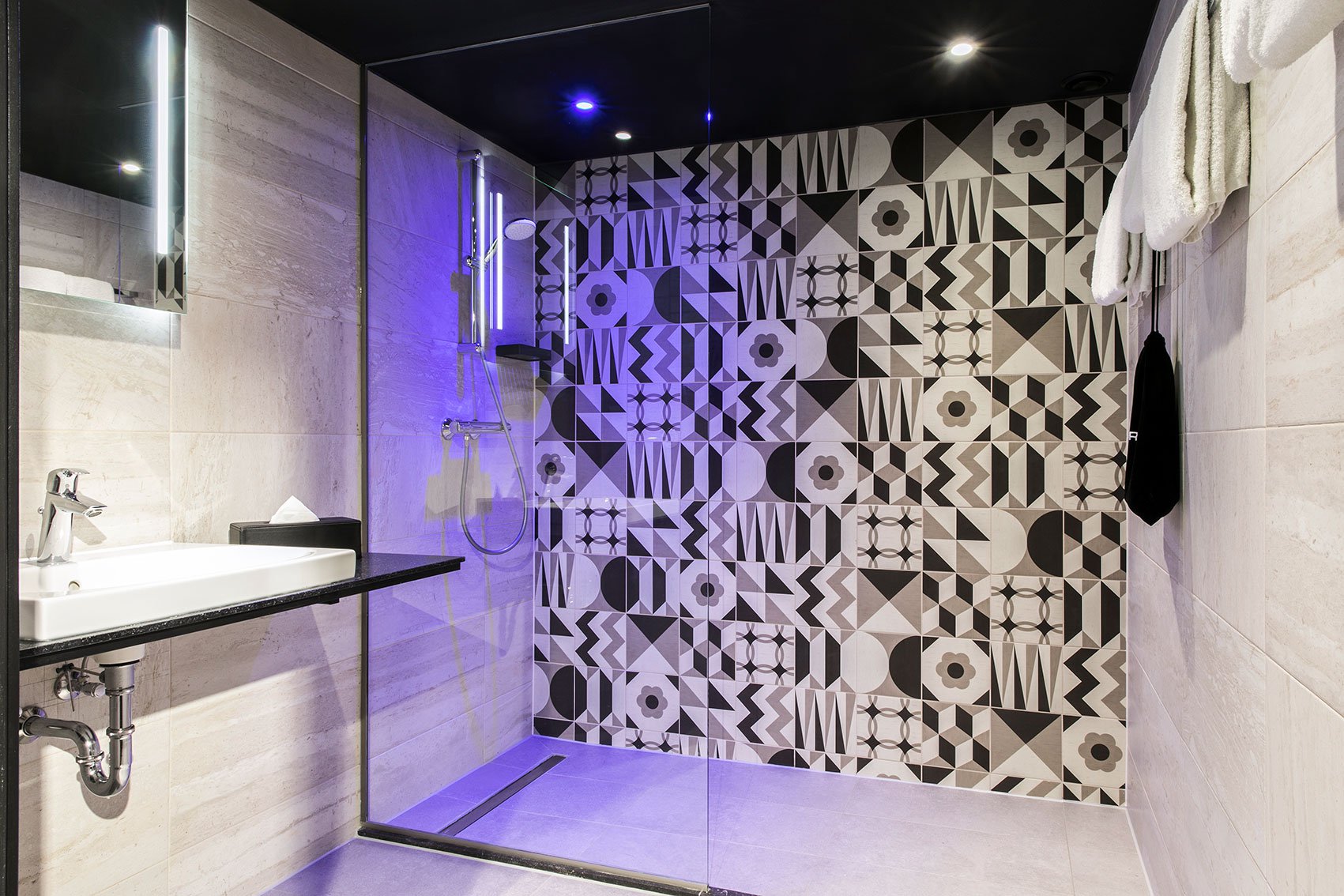 Cinema | Jazz | Gaming
Piet le Blanc Suite
Watch movies, listen to (jazz) music, game and spending the night: The Piet le Blanc Suite is going to be your new favorite hangout. The suite, that is located in the basement of the hotel, is named after Piet le Blanc (1921 – 1996), the characteristic jazz saxofonist from Rotterdam.
The space is suitable for 4 to 6 persons and is equipped with a flatscreen tv of 1.60 metres wide, a digital surround sound installation, super fast internet and an installed Playstation Pro. Therefore the Suite is not only perfect for watching movies, but also to stream, game or listen to music. A stay that you'll always remember...
4 Twin beds
1 Double bed
max. 6 persons
± 70 m²
About this room
Flat screen TV
Mini-bar
DVD player
Wi-Fi
Shower
Hairdryer
Kettle
Sitting area
Air conditioning
Good to know
Check-in

Check-out

Cancellation / Prepayment

Cancellation and prepayment conditions vary by room type.

Groups

When booking more than 8 rooms, special conditions and additional supplements may apply.

Payment options
Hotel reviews
Very good
Very good hotel in the middle of the centre, very friendly staff. One remark about the breakfast : when you are with 2 persons, you get 2 chocolatbreads, 2 sandwishes but only one croissant. That is a pity.
Great experience!
We really enjoyed our 2-night stay here. The hotel room was well appointed. The bed was very comfortable, and the bathroom had a great shower and was nicely designed. The record player and vintage records in the room were a fun touch -- and we enjoyed showing our 5-year-old son how a record player works! The breakfast was of good quality, and since we're still operating under Covid-19 restrictions, much of it was brought to our table directly by staff. Hotel staff at reception and in the eating area were really kind, considerate and professional. I travel a lot, but I rarely see this kind of generosity and professionalism in the hotels in which I usually stay. That was a definite plus point -- a reason that certainly would encourage me to stay here again in the future. Finally, the hotel's location is fantastic. It's very centrally located. Parking is right next door. Metro and train stations as well as ample restaurants and shopping areas are easily accessible on foot, even with a young child in tow. We had dinner one night in Oude Haven and another night on Marktplein/Pannekoekstraat, both just a stone's throw away from the hotel. A quick metro ride, or slightly longer walk, gets you to museums and other attractions. All in all, we're very happy with our experience.
Nice trip in R'dam
Nice hotel, friendly staff and good service. Location was in middle of centre, nice terras. Breakfast very good. But berst was service and kindness of all staff members. Quality of room good and clean.
Heerlijk verblijf gehad, top locatie!
Lovely hotel on a great location in Rotterdam city center! We had a very nice stay here! People from front desk and bar were very kind. Room was clean and modern. Breakfast was very good. Nice place to visit again some day.
A central and good Hotel in Rotterdam for good price
Like I said - a pretty good Hotelroom in Rotterdam which is close to everything you need, even a parkinglot. The beds are pretty good, we slept well. But its just sad, that we cant open the window by "full" - maybe its a security thing