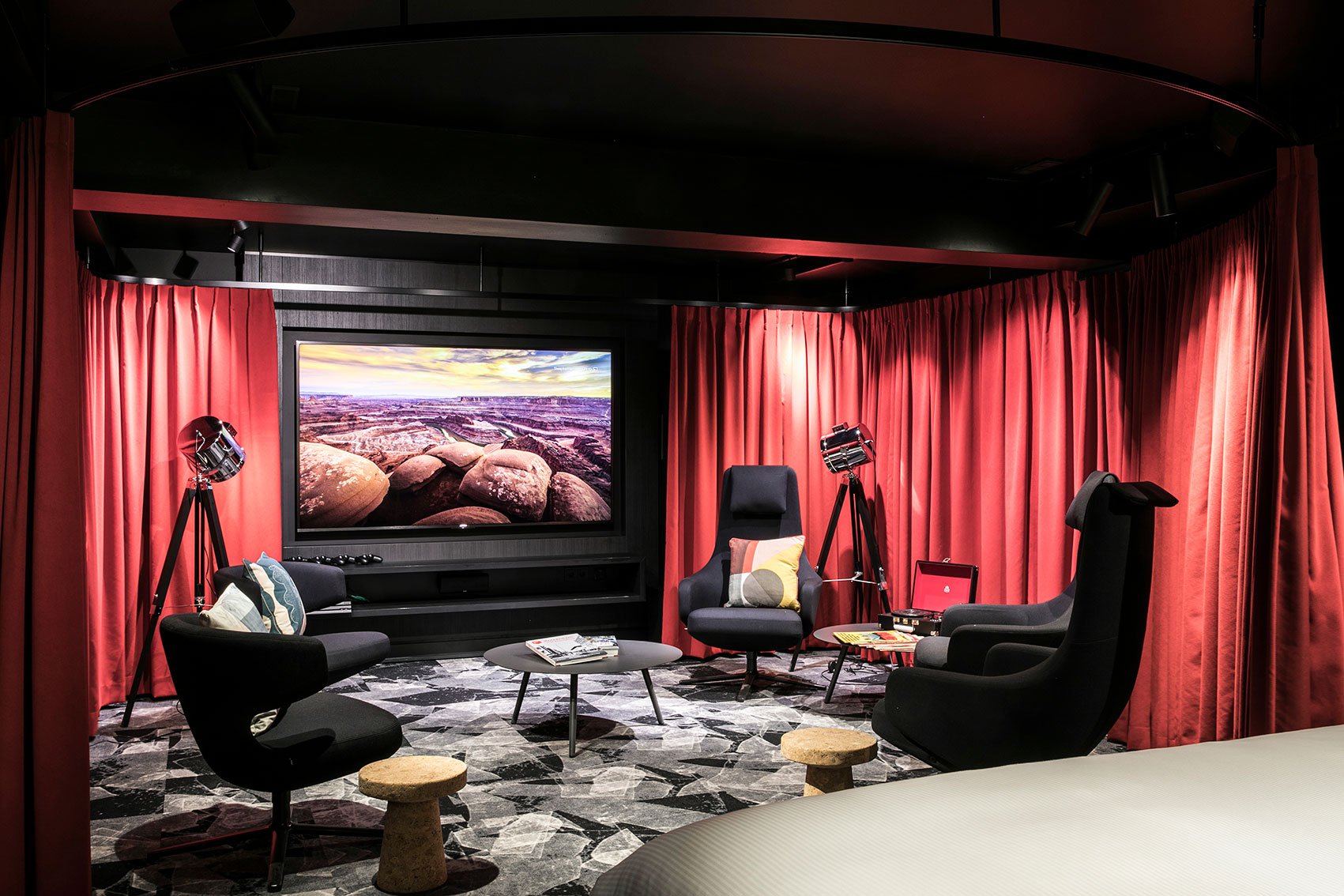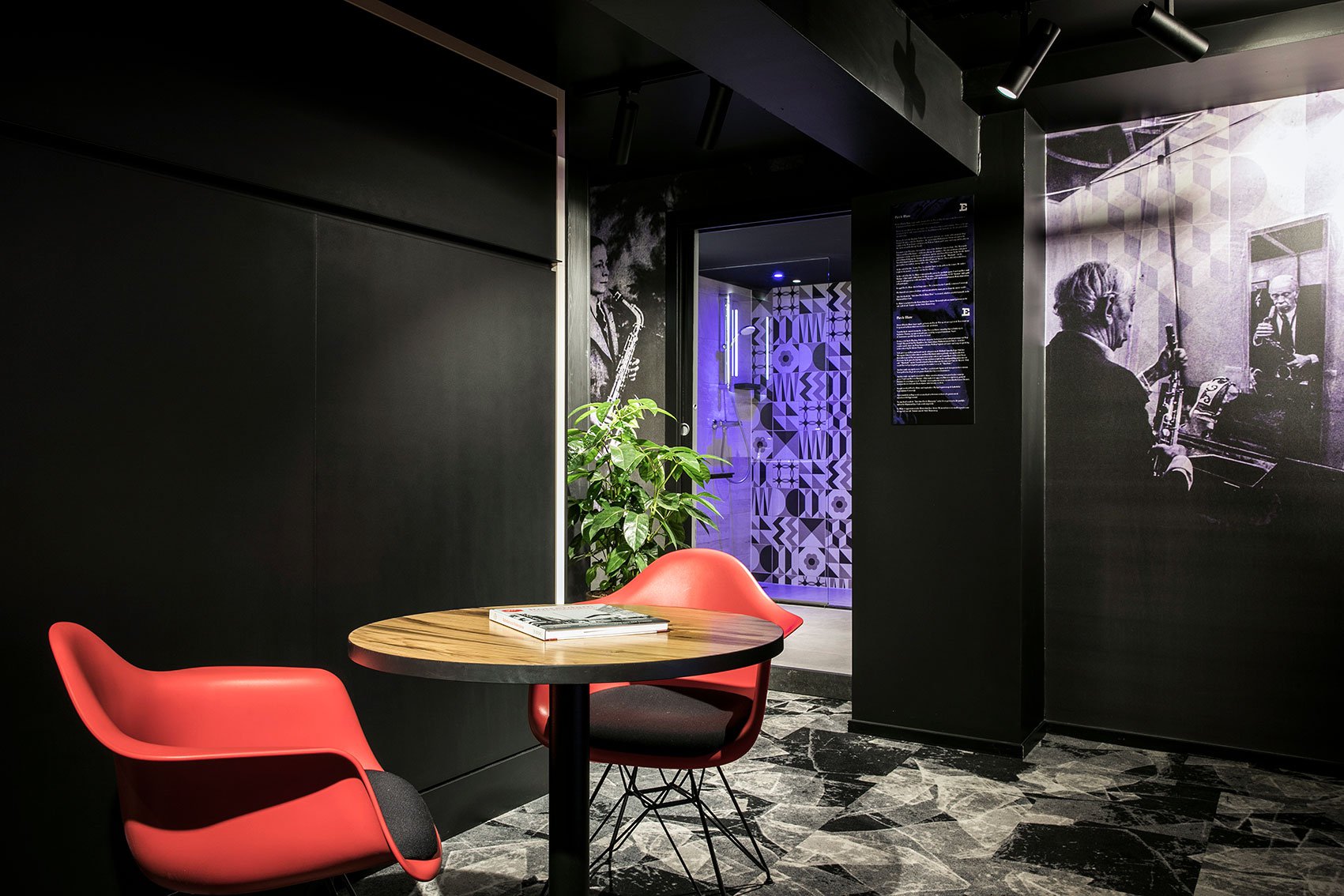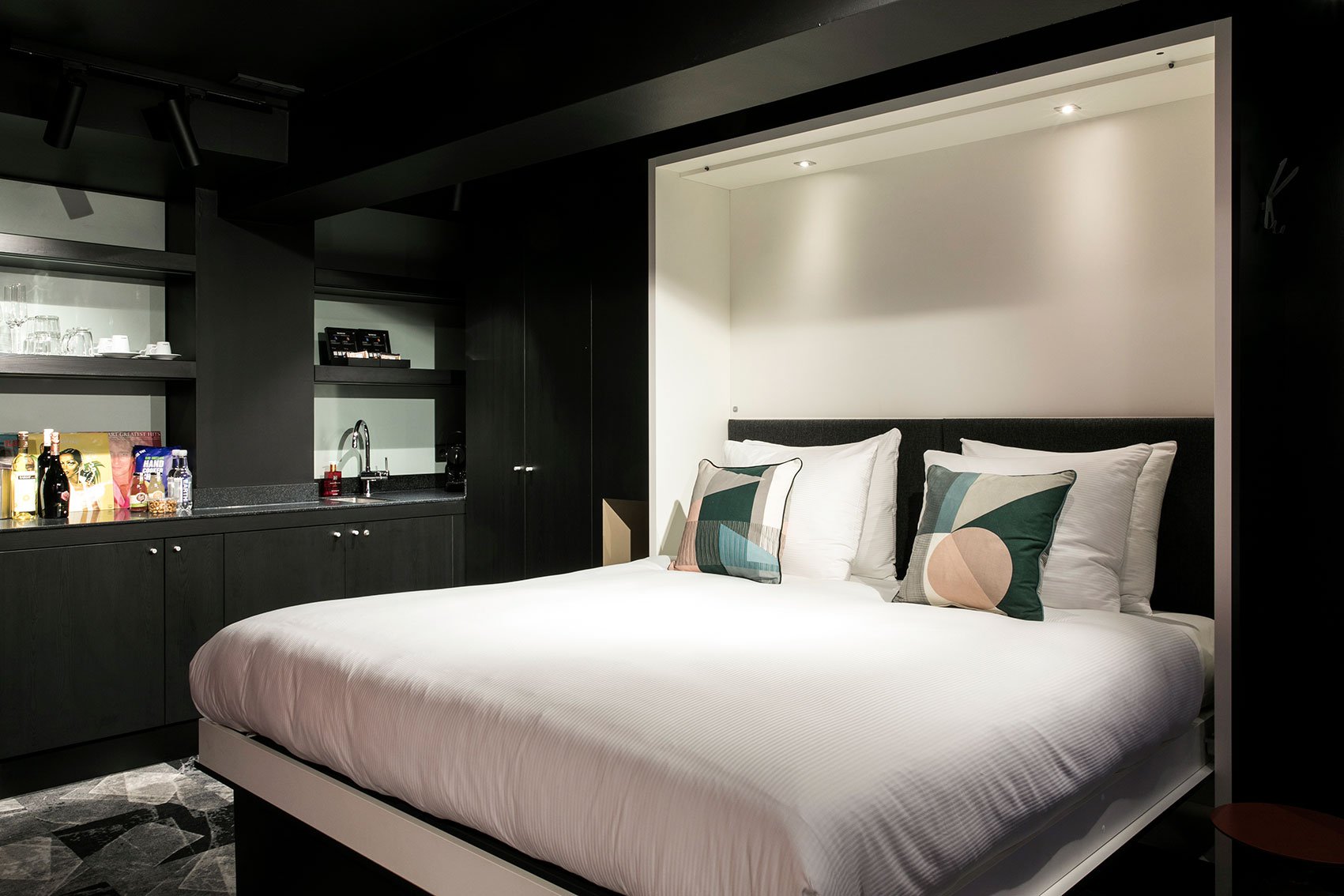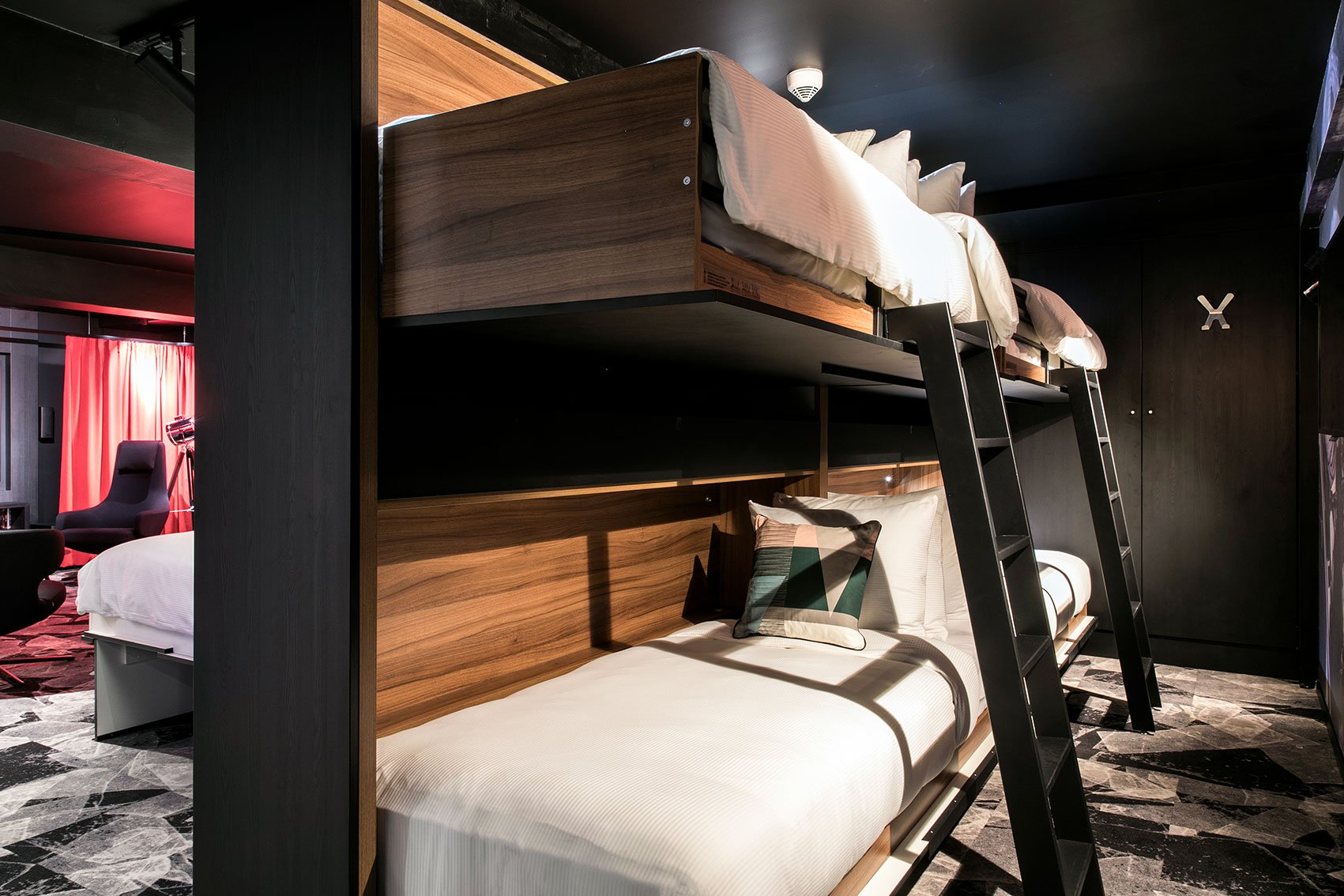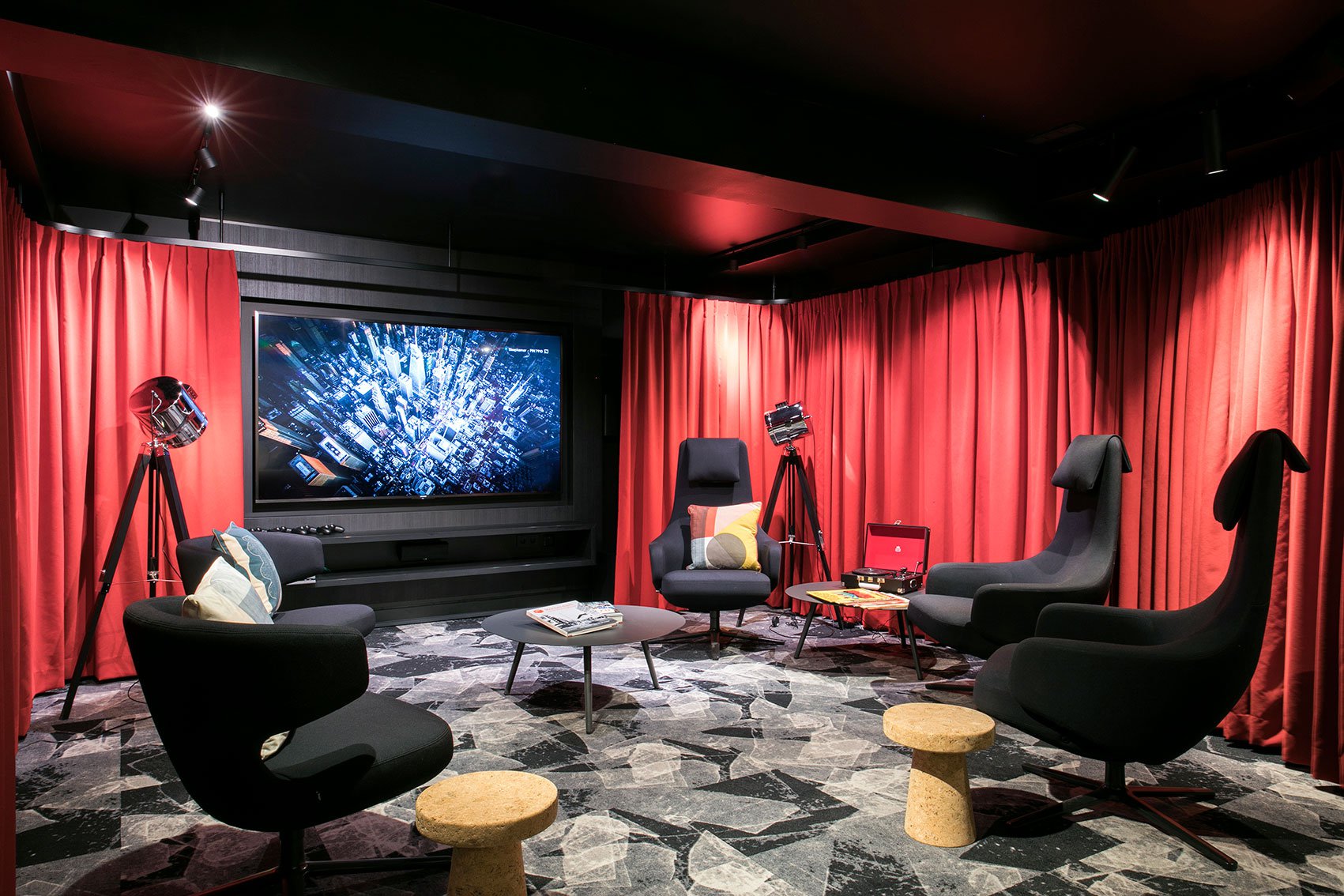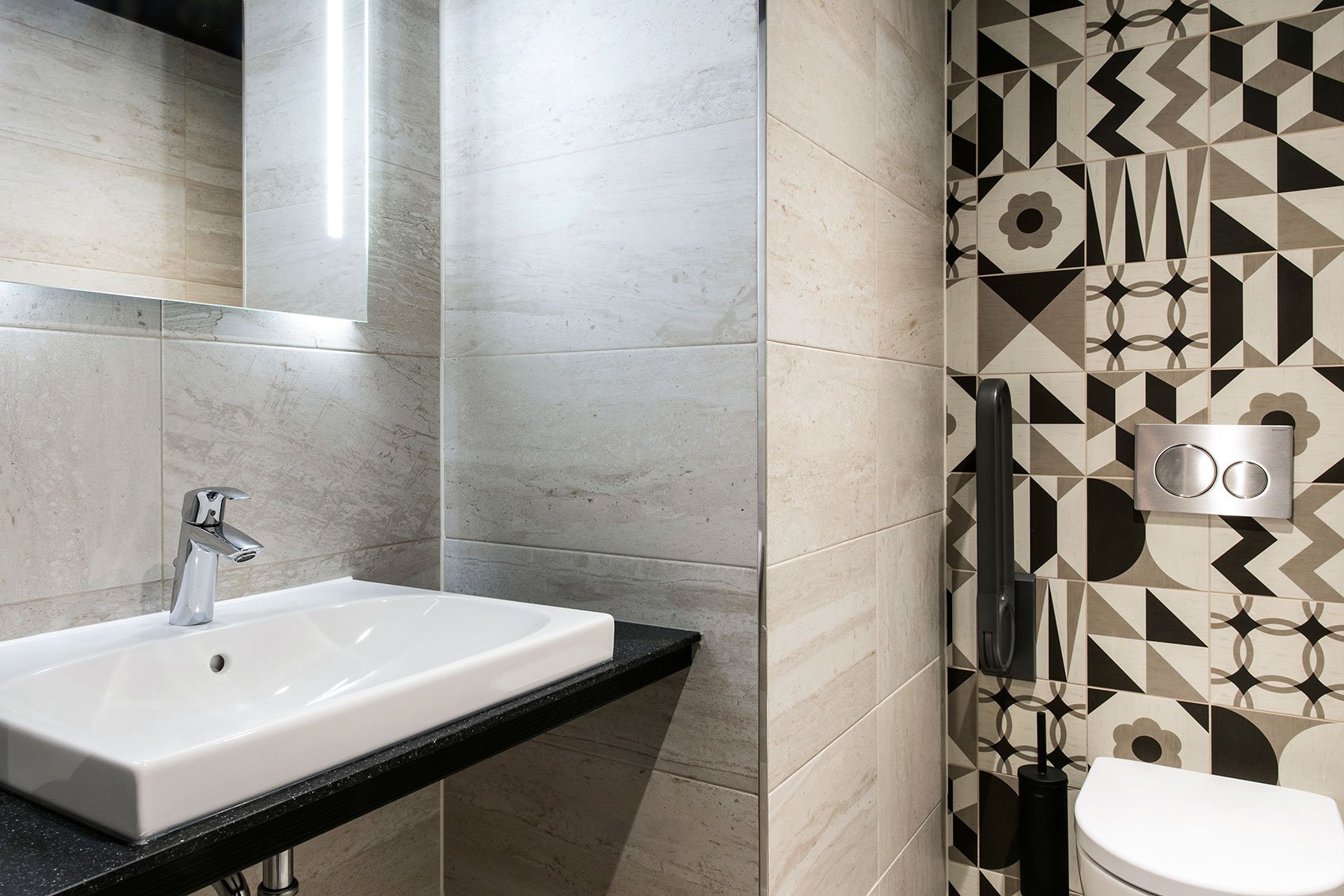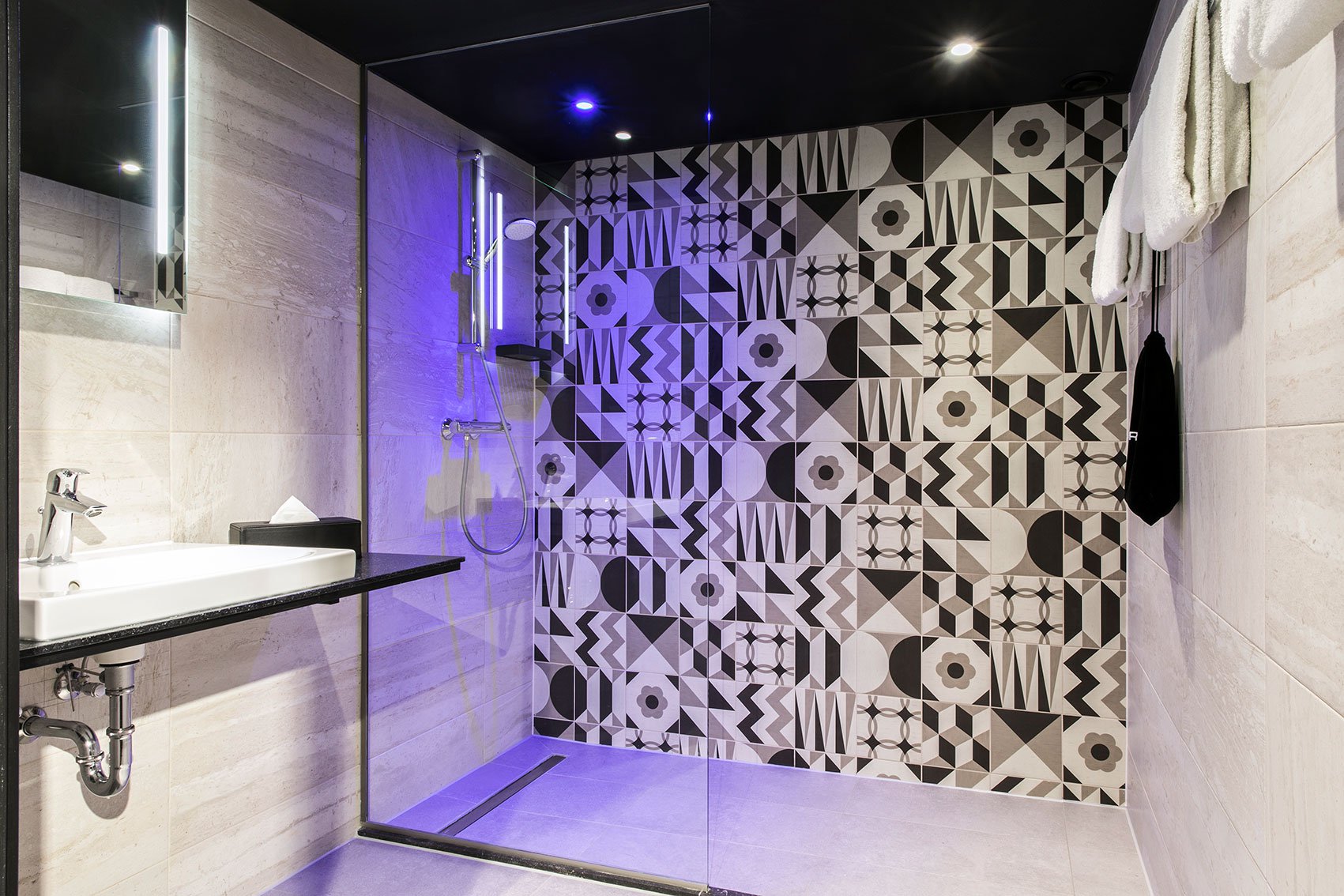 Cinema | Jazz | Gaming
Piet le Blanc Suite
Watch movies, listen to (jazz) music, game and spending the night: The Piet le Blanc Suite is going to be your new favorite hangout. The suite, that is located in the basement of the hotel, is named after Piet le Blanc (1921 – 1996), the characteristic jazz saxofonist from Rotterdam.
The space is suitable for 4 to 6 persons and is equipped with a flatscreen tv of 1.60 metres wide, a digital surround sound installation, super fast internet and an installed Playstation Pro. Therefore the Suite is not only perfect for watching movies, but also to stream, game or listen to music. A stay that you'll always remember...
4 Twin beds
1 Double bed
max. 6 persons
± 70 m²
About this room
Flat screen TV
Mini-bar
DVD player
Wi-Fi
Shower
Hairdryer
Kettle
Sitting area
Air conditioning
Good to know
Check-in

Check-out

Cancellation / Prepayment

Cancellation and prepayment conditions vary by room type.

Groups

When booking more than 8 rooms, special conditions and additional supplements may apply.

Payment options
Hotel reviews
Weekend Stay in August
Super stay in the center of Rotterdam in Savoy Hotel which is nice updated. The staff is very serviceminded and helpfull. The breakfast was very good. There is also very good parking opportunities. We can recommend the hotel.
Once we were in, we loved it!
Booked it though a 'mystery hotel' experience and it happened to be the same place we had previously chosen ourselves. So, no complaints here... Nice room, staff, shower, breakfast. Great place to venture into Rotterdam from.
Tries hard to be hip and happening, but lacks basic housekeeping and service skills
We stayed for a night at a the Savoy and were disappointed with our stay. Our room smelled very badly and the hotel tried to mask this by having our window open in the middel of November. The issue was a dysfunctional water seal and the shower briefly on fixed the issue. Bizarre that housekeeping didn't understand this. Next to this, we were allocated as a couple a twin room (two tiny separate beds). We only saw this when we reached the room and had no energy and go back to reception to ask for a different room (even when we had to pay extra). All in all a disappointing stay.
Getting to know Rotterdam from the perfect spot
Savoy Hotel is very conveniently located close to the center, so one can immediately get to know the city center. Parking in the garage in front of the hotel is tight but super close. The hotel staff was very helpful and friendly. We could easily leave our luggage when we still wanted to go into the city during the day. Next to that the breakfast had a great amount of choices and was delicious.
Well positioned clean and friendly.
Nice hotel with friendly staff. However the food and availability is below par. The breakfast was very low quality where much of the food was sugary or very high GI. Good juices and smoothies. The coffeemachines also made good coffee. The available cheese and vegetables was very poor. No fullgrain bread, only white or semiwhite. Lots of readymade options bought in. The restaurant was closed early if open at all. The menu was very limited.